News & Events
2018 World Cup
---
Check Presentation to The Periwinkle Foundation
Texas Financial Group presented a check for $20,000 to The Periwinkle Foundation at the Periwinkle Championship Gala for winning the Northwestern Mutual's "Letting Kids Be Kids" Camp Voting Contest. The contest was launched to celebrate Northwestern Mutual's camp-themed float, "Letting Kids Be Kids," in the 129th Rose Parade. The float featured childhood cancer survivors who experienced the joy of summer camp throughout their treatment journeys.
---
Check Presentation to University of Houston School of Music
Texas Financial Group presented a check for $30,000 to Lisa Elliot of Music Doing Good at the President's Leadership Council Concert to help students study music and enhance their talents at the University of Houston School of Music.
---
Check Presentation to Texas Children's Hospital
Texas Financial Group presented a check for $100,000 to Dr. Meenakshi Hegde at Texas Children's Hospital to help advance her continuing research in pediatric cancer treatment.
---
Dr. Michael Finke | Retirement Plannining Event
Dr. Michael Finke, PhD, CFP® is Dean and Chief Academic Officer at The American College of Financial Services and a leading researcher in the Personal Finance marketplace with a focus on Retirement Strategies. He spoke to many Northwestern Mutual Representatives and their clients on effective ways to accumulate wealth and generate retirement income.
---
Blue Zones | Dan Buettner Event
Dan Buettner traveled the world and studied specific societies where people lived longer and healthier lives. As he traveled, he documented what he found. He spoke to many Northwestern Mutual Representatives and their clients addressing tips on how these people were successful at living long and healthy lives.
---
The Woodlands CrawPHish Festival
This annual festival raises awareness and funds for Pulmonary Hypertension. Many Northwestern Mutual clients enjoyed a day of family fun, crawfish, catfish and BBQ.
---
Houston Wine and Food Week | The Woodlands
---
Northwestern Mutual Provides Children Battling Cancer with Respite During Opening Night of TUTS' PETER PAN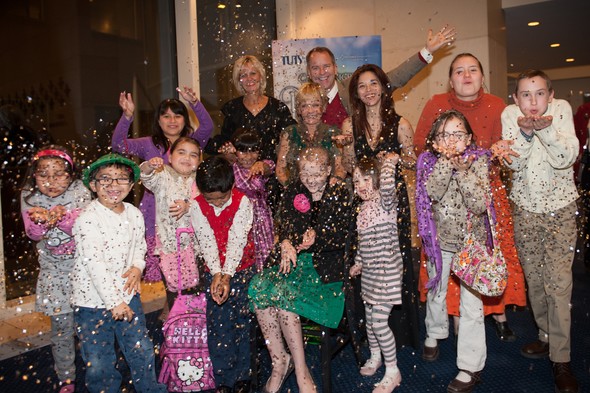 ---
A Night Out on the Town: Theater Under the Stars
Northwestern Mutual is a proud sponsor of Theater Under the Stars. TUTS is a Houston based non-profit institution dedicated to enriching life through the experience of quality musical theatre. TUTS also serves our community beyond the stage through innovative education and community outreach initiatives.
---
Take Me Out to the Ball Game: Astros Opening Day
Northwestern Mutual hosts 300 clients for the opening game of the Astros season each year at Minute Maid Park. Financial Representatives, clients, and their families dine on ballpark fare and play Wii baseball while enjoying America's favorite pastime.
---
Ancient Mysteries: Exclusive Viewing of the Tutankhamen Exhibit at the Museum of Fine Arts Houston
The Tutankhamen: The Golden King & The Great Pharaohs exhibit made one final stop in the United States before retiring to Cairo permanently. Northwestern Mutual had the pleasure of sponsoring a night at the museum and offered continual tours of the exhibit as well as food, drinks, and live Persian music. It was a night of elegance and ancient history.
---
Houston Dynamo: Hispanic Marketing Initiative
The Houston Dynamo MLS soccer team found a new home near downtown Houston this season. The 22,000 seat stadium has been nicknamed "The Oven" due to the extreme temperatures felt inside. Northwestern Mutual Financial Representatives and their clients joined with the city to celebrate their opening game on May 12.
---
Steve Forbes and John Schlifske on
"The New Normal and Post-Recession Trends"
Northwestern Mutual hosted a speaker series with Steve Forbes and Northwestern Mutual chairman and CEO John Schlifske. The three day tour included panel discussions in Louisville, Cleveland, Indianapolis, Kansas City, Houston and Dallas, and saw nearly 4,000 attendees in total. In Houston, where there were over 700 in attendance, Steve and John discussed the economy, the markets and how individuals and business owners can rebuild their financial foundation. Key insights presented at the events were:
In the 'new normal' consumers should manage risk first.In the 'new normal' consumers need to have a plan to manage risks that were once considered remote, such as extreme market volatility. According to Schlifske, successful financial planning means embracing time-tested methods for long-term gains, focusing on steady, consistent growth.
The recovery is real, but we have a long way to go. With the recession and market volatility of 2009 behind us, Schlifske and Forbes agree that the country has entered a recovery phase but note that we will continue to be challenged by flat markets, minimal interest rate returns and threats of inflation or deflation. Forbes stressed that the recovery is a long, steady road that is certain to have ups and downs, but the goal is to employ a strategy that anticipates and overcomes those variances to be positioned for future success.
Post-recession trends include goal-based investing, longer-term plan horizons and a greater appreciation of the risks of over-leveraging. Research conducted by Northwestern Mutual found that consumers are extending their planning timeframes and placing an increased importance on saving.
For more thoughts on these and other business topics, visit the Northwestern Mutual Resource Center of the Forbes.com Fact & Comment page.